18 Mar

How to Find a Good Sales Person that will Grow Your Company

These are the top two questions I was asked at a recent seminar for Business and Sales Leaders:

1.) How do I find the salespeople that will not only be a right fit for my business but will also hit the sales numbers month after month?

2.) How do I find Millennial Salespeople who are passionate about sales?

Every company's needs are different. Yet every company needs salespeople that will succeed in the roles that must be filled.

On Thursday, April 19th I'm co-sponsoring a live online presentation with sales development thought-leader, Dave Kurlan. In this fast-paced, 30-minute presentation, Dave, named as one of the Top 50 Sales Influencers in the World, will explain:

-the important roles of benchmarking top performers,

-making sure your sales recruiting efforts are EEOC Compliant, and

-ensuring you can predict, with confidence, whether your sales candidates will succeed in the role you need to fill.

If you would like to hear the answers to the questions above, please join me for this live webinar. See below for more details and how to register.
The Role of Benchmarking, EEOC Compliance and Predictive Sales Selection in Hiring Great Salespeople for Your Company
THURSDAY, APRIL 19TH
11:00 am USA Eastern Daylight Time (GMT -4)
HOSTED BY SALES EXPERT DAVE KURLAN
Founder and CEO of Objective Management Group
Here's what customers are saying:
We have used various sales assessment platforms over the last 10 years to evaluate producer hires, both new and seasoned. While they all provided some value, the OMG Sales Candidate Assessment is the best.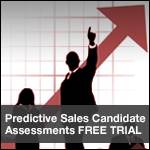 It drills down much deeper into the candidate's strengths and weaknesses; and by using the assessment's recommended questions, helps uncover training and sales management needs. Many of the candidates have commented at the conclusion of the call, "This was the most in-depth job interview I have ever experienced."
Billy J. Bond, Jr.
Leavitt Group
Objective Management Group - April 19th Webinar
© Copyright 2018 Danita Bye