How to Help Your Millennial Salespeople get on Board Faster

How do I help my Millennial Salespeople get traction faster?

This is the most frequently asked question I got on the Millennials Matter Book Tour. For business to grow, it's critical that we answer this question correctly, so we exceed our strategic growth targets.

And, that's why I'm inviting you to this top rated webinar by my colleague, Dave Kurlan. Check it out.

The 6 Hidden Sales Weaknesses that Limit Sales Results

On Thursday, June 14th I'm co-sponsoring a live online presentation with sales development thought-leader, Dave Kurlan.

In this fast-paced, 30-minute presentation, Dave, named as one of the Top 50 Sales Influencers in the World, will dig into the data from more than 1 million salespeople and explain how 6 hidden sales weaknesses could be the cause for all of this mediocrity. You will learn:
What the 6 hidden weaknesses are.
How it impacts your salespeople.
How you can determine whether your salespeople have these weaknesses and
What you can do about it.
The 6 Hidden Sales Weaknesses that Limit Sales Results
THURSDAY, JUNE 14TH
11:00 am to 12:00 pm USA Eastern Daylight Time (GMT -4)
HOSTED BY SALES EXPERT DAVE KURLAN
Founder and CEO of Objective Management Group
Here's what customers are saying:
We have used various sales assessment platforms over the last 10 years to evaluate producer hires, both new and seasoned. While they all provided some value, the OMG Sales Candidate Assessment is the best.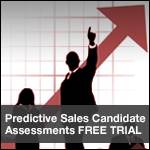 Objective Management Group - June 14th Webinar
For more information, or to register,
go here
.
© Copyright 2018 Danita Bye