How to Manage Your Millennial in the Workplace – Innovate in the face of Rejection (Part 2)

We need resilient Millennials to reach our growth goals – all CEO's, business leaders, and sales executives agree. In today's fast-changing business environment, resilience is a sought-after character trait. Yet, finding Millennial salespeople with mental toughness isn't always easy. Some of the leaders I talk to, compare it to looking for a needle in a haystack.

In my recent Forbes article, Two Secrets to Building Resilience in Millennial Leaders to Achieve Sales Results, I discuss three action steps to assist you as you coach and mentor your millennial sales leader on resiliency. You can read the full Forbes article here.

How can you use your experience and wisdom to transform your millennial salespeople into resilient leaders who can reach and exceed their sales goals?

"As a leader, you are trusted only to the degree that people believe in your ability, consistency, integrity, and commitment to deliver." David Horsager, business strategist, keynote speaker, and author of the national bestseller The Trust Edge.

To Read Part One in this seriesgo here:

Business and sales leaders are always seeking fresh strategies on how to manage their Millennials in the workplace. Here are additional insights to build resilient Millennial sales leaders that I didn't include in the Forbes article.

Develop Indestructible Determination

In my previous post in this series, I've discussed three action steps to help your up-and-coming sales leader to recover from rejection. Another important component of a resilient sales leader is having strong determination to forge ahead in the face of seemingly overwhelming stumbling blocks.

Our research shows that 85% of all salespeople have non-supportive beliefs.
This means that they will be sabotaging rather than supporting ideal sales outcomes.

I often see these tell-tale signs in emerging sales leaders who lack determination:
They might be afraid to take risks.
They need to be certain about something before moving forward.
They see failure as catastrophic and might give up completely.
Schedule regular Coaching Conversations
Share: Tell your emerging leader about your fears and failures. They want to know what moti­vated you to push through the discouragement.
Discuss: Ask your Millennial sales leader how your experiences might apply to their challenges. Probe even deeper to fully understand their perspectives.
Listen: What are they really telling you? Listen deeply to their stories of when they have struggled to meet their goals and objectives. Applaud their journey.
Encourage Practical Determination Work-outs
Strengthening the determination muscle takes time. Invite your emerging sales leader to commit to doing these practical exercises for the next thirty days:
Go to the gym at least 4 days of the week.
Set aside time daily for meditation.
Commit to making a certain amount of outbound phone calls for the week, regardless of the obstacles.
Have you found your needle in the haystack yet? A resilient Millennial salesperson with determination and mental toughness will sign up for seemingly impossible tasks. He or she will be able to step out despite their fears. They will take action against all odds. Assist your Millennial sales leader to develop indestructible determination. It will strengthen his or her ability to overcome challenges so that they can reach and exceed their growth goals.
Two Secrets to Building Resilience in Millennial Leaders to Achieve Sales Results.
Read my
previous blog
in this series to learn more about building resilient sales leaders. You can also read the full
Forbes article here
:
Here's what customers are saying about Sales Assessment Platforms:
We have used various sales assessment platforms over the last 10 years to evaluate producer hires, both new and seasoned. While they all provided some value, the OMG Sales Candidate Assessment is the best. Here's a FREE TRIAL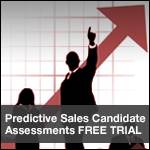 Leadership Lesson: Determination is the character quality needed to fuel resoluteness as Millennial sales leaders face modern-day realities.
Leadership Question: Where is your emerging sales leader on the determination spectrum?
© Copyright 2018 Danita Bye