Leadership, Millennials, Sales Coaching & Mentoring
Millennial Development: Reviewers Shatter the Stereotypes (Part 2)
"No problem, I'll just ask Siri!" On October 19, 2017, Daniel Brea uploaded "A Millennial Job Interview" on Vimeo. During the 3 minute tongue-in-cheek portrayal of Millennial stereotypes, you will see how young Amy handles (bungles) her job interview.  Constantly texting, barely making eye contact with the interviewer, she demands flexible work hours. When the interviewer suggests that she might not have the necessary skills for the job, Amy shrugs her shoulders and says, "No problem, I'll just ask Siri!" When told that she is probably not a fit, she indignantly demands to speak to HR. She wants to lay a complaint even though she hasn't been hired!
How do you feel about the millennial stereotypes we hear and read about every day? Do you see them in your business?
The clip has been viewed almost 4 million times and received mixed comments. One Millennial describes the video as a "crass generalization, insulting and distasteful." You can watch the full clip here.
One of the main objectives of my book, Millennials Matter: Proven Strategies for Building Your Next-Gen Leader was to dispel the stereotypes that haunt this generation. In doing so, I committed to providing practical tips, proven strategies, and encouragement to experienced leaders. We have a duty to mentor and coach this promising generation.
One such leader is Dr.Heather Holleman, a college instructor in the Department of English, Penn State. After reading Millennials Matter, she sent me this note:
"I have loved Millennials Matter and encouraged the (CRU) team leader here at Penn State to purchase it for how we coach leaders this summer and next year. I found so many treasures of wisdom in that book. As a college instructor, I plan on using Bye's wisdom to improve how I mentor students towards success."
Dr. Heather Holleman, Department of English, Penn State ~ Speaker, author, and college instructor
Recently, I wrote about the professors from the Liffrig Family School of Education and Behavioral Sciences. They decided to use a 'book club' strategy to review Millennials Matter. You can read the article here:
Here are more thoughts from the professors that may help you in your coaching and mentoring journey with your millennial sales leader.
Gain Insight from Millennial Testimony
One professor commented, "Danita Bye, in her book Millennials Matter, has actually taken the time to consult quality research, including Millennial-based testimony…"
Are you struggling to come to grips with the "uniqueness" of your millennial leader? If one only looked at the millennial testimony in this book, a wealth of insight would be gained.
Learn how Millennials approach their world and the impact they potentially have on the future trajectory of our society.
Discover how emerging leaders seek to find their purpose to make a difference in the world.
Participate in their search for a career that fulfills them and keeps them excited and engaged.
Accept the Gen-X and Boomer Challenge
Many of us in the Gen-X and Boomer Generation have shelved Millennials as being the screen-loving, narcissistic generation. According to this professor, "It is important to help Millennials practice effective communication and identify their talents to develop a healthy self-image." 
Commit to accept the Gen-X and Boomer challenge to assist your Millennial in developing an action mindset.
Nurture a sense of personal accountability within your millennial leader.
Assist them to avert the tendency to cast blame and make excuses.
Inspire the Investment Effect
In the words of this professor, "Millennials Matter presents firsthand witness and alternative research which points to Millennials as a virtuous-based, altruistic gift to the world."
You can help inspire the investment effect in your Millennial leader.
Demonstrate self-reflection to utilize the strengths of your Millennial leader to help them make a real difference.
Align Millennial talents and strengths with their work.
Accept the challenge to shatter millennial stereotypes. Step up and harness the unique gifts and talents that your Millennial brings to your business. Together you can grow your business, realize their dreams and you can leave a lasting legacy.
Stop complaining and start coaching today! To get your copy of Millennials Matter, go here. 
Leadership Lesson: Look beyond the stereotypes and commit to finding the brilliance in your emerging sales leader.
Leadership Question: How are you harnessing the unique skills of your Millennial sales leader?
Here's what customers are saying about Sales Assessment Platforms:
We have used various sales assessment platforms over the last 10 years to evaluate producer hires, both new and seasoned. While they all provided some value, the OMG Sales Candidate Assessment is the best. Here's a FREE TRIAL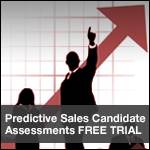 © Copyright 2018 Danita Bye